Short Hills, Millburn


Short Hills,
Market Stats
January 2014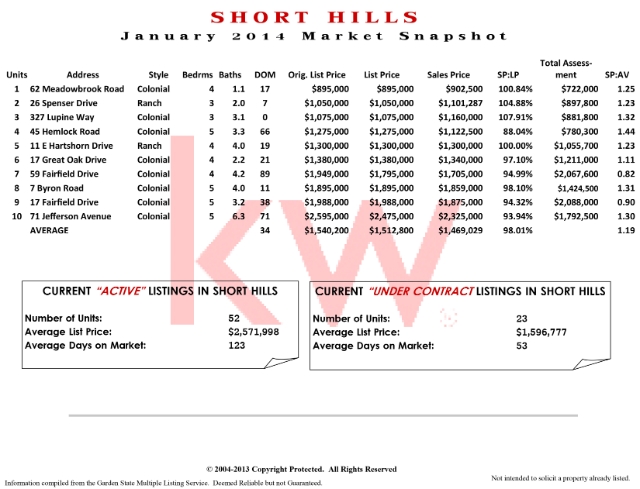 Transportation
Short Hills is relatively close to the city (30-45 min drive), however, convenient public transportation is still available.
Train: Both Short Hills and Millburn have an NJ Transit train station that allows for a very easy commute to New York and throughout the state.
Bus: Through NJ transit, a bus leaves from Millburn every 2 hours and makes the 30-45 minute drive to NYC. Also, students in the area are provided with bus services to and from their schools.
For all scheduling information visit
www.njtransit.com
Education
There are a number of nurseries (from 2 years old) and preschools (5 years old) in the area, both sectarian and non:
Open Door Nursery School
Neighborhood House Nursery School
Christ Church Nursery School
Far Brook School
Temple B'nai Jeshuran
The Montessori School of Millburn/Short Hills
St. Stephen's Pre School
Short Hills also has four K-5 elementary schools, three are part of the Millburn Township Public Schools:
Deerfield Elementary School
Glenwood Elementary School
Hartshorn Elementary School
The Pingry School
Lower Campus is a private elementary school.
Students move on to complete their education at the Millburn Middle School for grades 6–8 and Millburn High School for grades 9–12. Millburn High school is consistently ranked among the best schools in America. During the 2007-08 school year, Millburn High School was recognized with the Blue Ribbon School Award of Excellence by the United States Department of Education, the highest award an American school can receive.

Beginnings
Originally, the area that would become Short Hills was part of Springfield Township, Union County, New Jersey, and its eponymous hills are thought to have played a role in the movement of the Continental Army under George Washington during the Battle of Springfield.
Short Hills began as a planned community, when Stewart Hartshorn (who became wealthy from developing, perfecting and manufacturing the self-acting shade roller) purchased 13 acres (53,000 m2) of land in Millburn Township, near the present Hobart Avenue, Parsonage Hill Road, and Chatham Road. Hartshorn's purpose was to create "a harmonious community for people who appreciated nature," and "where natural beauty would not be destroyed by real estate developments, and where people of congenial tastes could dwell together." He later increased his land holdings to 56 acres (230,000 m2) for himself and 1,552 acres (6.28 km2) for the whole village, with each plot not owned by Hartshorn being no larger than 1/2 acre.
Hartshorn chose the name "Short Hills" because it reflected the topography of the region, and also because the local Lenape Native Americans used that same name to describe the region. One local resident suggested that he call his village "Hartshornville," but he definitively refused.
Railroad and postal connections
Hartshorn situated his "ideal town" near enough to a railroad to allow for an easy commute to Hoboken and, from there, to New York City. Hence, his decision in 1879 to build, at his own expense, a railroad station along the original Morris and Essex Railroad line. He also persuaded the United States Post Office to open a station in his new railroad station in 1880, and in fact, the Post Office has always had a presence in Short Hills from that day and its own ZIP Code, 07078.
Buffer zones
Presciently, Hartshorn deliberately preserved strips of land along the railroad right-of-way from any development west of Old Short Hills road. These strips separate Hobart Avenue to the north, and Chatham Road to the south, from the railway line. The only structure that has ever stood directly adjacent to the line is the railroad station. Mr. Hartshorn also established the Short Hills Park directly across Hobart Avenue from the station, which stands to this day. In 1944, his estate donated this park to Millburn Township, with the stipulation that it always remain open to the public.
Common elements
After seventeen houses were erected, Hartshorn turned his attention to other "common elements." These included a Music Hall, which remains today as the Short Hills Racquets Club. However, despite these efforts, Short Hills remains a relatively quiet place.
Later events
Stewart Hartshorn died in 1937, at the age of 97. His daughter Cora survived him, wrote her own history of the hamlet, and helped establish the Arboretum that bears her name.
In 1975, the Millburn-Short Hills Historical Society formed in conjunction with the American Bicentennial celebrations.
In 2001, the Christopher and Dana Reeve Paralysis Resource Center opened in Short Hills.
In 2002, local residents planted a memorial tree on the grounds of the railroad station, to honor those of their neighbors who died in the attacks on September 11, 2001.
Though Short Hills has its own railroad station and post-office branch, it does not have an independent government. It remains today a part of the Township of Millburn, as it has been since its inception. Short Hills also has a small "downtown" area that is smaller than downtown Millburn.